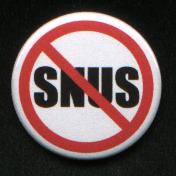 September 10, 2004 -
Snus snub for Sweden at EU court..
The EU court in Luxemburg has dealt a blow to Swedish national pride, balance of trade figures, and, depending on who you believe, European public health. The court's lawyers recommended that the ban on snus (a Swedish form of snuff tobacco inserted under the top lip) introduced in 1992 should stay in place. GP reported that the statement only represented a recommendation, but that it was unlikely that the court would deviate in its final ruling later this year. It's a major blow for snus giant, Swedish Match. They had been eyeing new markets such as Britain and Germany as smoking regulations across Europe become increasingly restrictive. The lawyer leading the investigation, Leendert Geelhoeds, gave two reasons for maintaining the ban: it prevents tobacco use spreading to new groups; and it's the only way to protect the health of citizens. For those of you wondering, Sweden craftily negotiated themselves an exemption from the snus ban when they joined the EU in 1995. The current investigation will not affect this. Swedish snus can be bought legally in Norway - and illegally in Denmark and Finland.