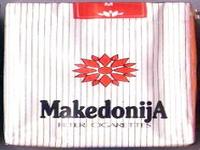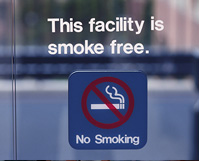 December 25, 2009 - A ban on smoking in public places takes effect in Macedonia at the stroke of New Year, but some members of parliament (MPs) and the hospitality industry are fighting a last-ditch battle.

Like most European Union and candidate EU states, Macedonia has announced restrictions on smoking, but those who oppose the ban are citing precedents in other countries that have eased such bans.

In September 2009, Croatia eased restrictions, while subsequently Greece and Serbia reportedly were considering doing the same. In some countries, notably Bulgaria, the existing restrictions on smoking in public places are widely ignored – though, ironically, the Government in Sofia has announced that the ban will be widened in 2010.

Previous news brief: (November 11, 2009 - Macedonia has become the latest country in South Eastern Europe to announce a ban on smoking in restaurants and bars, and the latest to hear vociferous complaints from restaurant owners that their businesses will be ruined.>

Macedonia Radio and Television said on December 25 2009 that state inspectors had been dispatched to tell the owners of cafés and eateries that the smoking ban must be complied with in the first minutes of 2010, shortly after people finish wishing each other a happy new year. "State Inspectorate crews will be working overtime during the New Year's holidays, including the New Year's Night, Saso Jakimovski, the head of the state market inspectorate, was quoted as saying. The fine for places found in breach of the smoking ban is set at 2500 euro (3,595.25 USD) to 4000 euro (5,752.40 USD), while individuals will be fined 150 euro (215.72 USD) to 300 euro (431.43 USD).

However, Macedonia's Dnevnik newspaper said that a group of MPs, led by Georgi Oroshavets and former prime minister Vlado Bucovski, was preparing an attempt to trim back the anti-smoking regulations before the end of January. According to a report by Bulgarian news agency Focus, quoting Dnevnik, Bucovski said that Macedonians could not become "bigger Catholics that the Pope" and there was no need for Macedonia to have such a restrictive law, when – he said – there was a trend throughout Europe towards "loosening" the ban.

Retreats from smoking bans were being ordered because of the bans' impacts on hotels and the restaurants, Buckovski said. Media in Skopje reported Donco Tanevski, the Chairman of Hotel Association of Macedonia, as saying that the smoking ban will additionally hit tourism workers.

From Belgrade, Danas reported on December 24 2009 that the Serbian government had "abandoned" plans for a blanket ban on smoking indoors. The daily said that this had followed a meeting between government officials and cigarette manufacturers in Serbia.

The government has agreed to the "protection instead of ban" principle, promoted by cigarette makers and restaurants, Danas quoted a source close to the Cevtković cabinet as saying.

In Greece in November, health minister Mariliza Xenogiannakopoulou said that there were "great gaps in the application of the smoking ban" because many establishments were simply not complying. Athens-based daily Kathimerini reported that at the time that Greek officials said that they would launch a review of the law, which was approved earlier in 2009 following complaints from non-smokers at home and pressure from the European Union.

References: Smoking controversies in Macedonia, Serbiaby Clive Leviev-Sawyer, the Sofia Echo, 12/25/2009; Smoking ban effective on New Year's Eve, Macedonian Radio and Televsion, 12/25/2009.