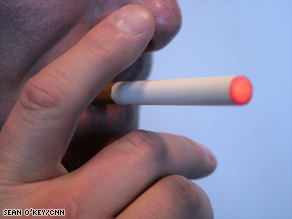 August 6, 2009 - Saudi Arabia is one of the leading countries that have banned the sale of "e-cigarettes because of the harm the devices cause. The devices have been popular for the past few years following their introduction in China in 2004.

The move comes after the issuance of a warning on the use of these devices by the US Food and Drug Administration (FDA).

The head of the Saudi Smoking and Drug Awareness Organisation said their use was still limited and there were no official importers of the devices within the kingdom.

Reference: Saudi Arabia to curb 'e-cigarettes' by JABER AL MUSALLAM, Peninsula Oatar's leading english daily, 8/4/2009.

A few related news briefs: Smoking Everywhere - e-cigarette distributor..; Oregon - electronic (e) cigarettes sales prohibited until approved by FDA..; Israel bans electronic (e) cigarettes..; New Zealand - 1st trial ever of e-cigarettes..; Another e-cigarette..; Denmark - e-cigarettes can not be sold OTC..; E-cigarettes need to establish efficacy and safety - FIRST..; Health Canada warns against 'e-cigarettes'..