November 18, 2009 - Lower income Massachusetts smokers have dramatically abandoned their habit amid a major state campaign that vigorously promotes and pays for tobacco addiction treatment, according to a report scheduled to be released this morning.

Smoking rates among the poor plummeted 26 percent in the first two years of the ongoing state program, a striking result that is already drawing national attention to the effort. Officials targeted a population that historically had the highest smoking rates in Massachusetts.

The study, issued by the Department of Public Health, found early indications that the tobacco cessation efforts - aimed at patients enrolled in the state's medical insurance for the poor,

MassHealth - are reaping immediate health benefits.

Once patients began receiving counseling and medications to help snuff out their habits, they made fewer trips to emergency rooms because of wheezing bouts of asthma, and there was a trend toward fewer life-threatening heart attacks.

The stop-smoking initiative, which covers virtually all the costs of cessation counseling and drugs, was ordered by the Legislature as part of the landmark health care overhaul in 2006 with a dual purpose: saving lives and money. National health leaders plan to point to the Massachusetts experiment to bolster efforts to expand tobacco cessation services as part of federal health care legislation.

For years, low-income smokers have been among the most persistent smokers - and the most difficult to reach with campaigns to quit. That was attributable in no small part to the cost of nicotine replacement drugs and even pricier prescription drugs that douse the brain's insatiable craving for the addictive chemical in cigarettes. As a result, smoking rates among the poor had hovered close to 40 percent since the late 1990s - nearly 2 1/2 times the statewide rate for adults, which stands at 16.1 percent.

So the Legislature mandated that the costs of cessation should be covered by MassHealth. And they embraced the double-barreled approach championed by tobacco control specialists, which combines counseling and medication. The drugs include patches, gum, and other nicotine substitutes along with drugs designed to thwart nicotine's addictive effects.

Co-pays for drugs and counseling were all but eliminated, with patients charged no more than $3. The state spent $10.9 million on tobacco cessation for MassHealth patients from July 2006 through June 2008. (More recent figures are not available because health insurance claims are still being processed, a state spokeswoman said.)

"But it's not enough to have a benefit," said Lois Keithly, director of the Massachusetts Tobacco Cessation and Prevention Program. "It has to be promoted." The state took to the airwaves and the road, flooding food banks and medical clinics with more than 100,000 fliers touting the campaign. The expectation, based on the experience of other states and health plans, was that 5 to 10 percent of MassHealth patients who smoked might seek help in the first couple of years, Keithly said. Instead, from July 2006 to May of this year, about 75,000 patients had used the services - two of every five MassHealth smokers.

Dr. Nancy Rigotti, director of the Tobacco Research and Treatment Center at Massachusetts General Hospital, "We wondered if this population would be interested in cessation," said "It turns out they were interested - they just couldn't afford it."

Click to enlarge: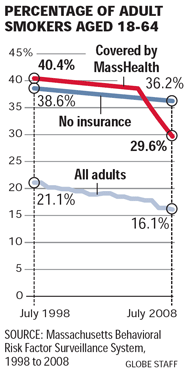 By the summer of 2008 - the latest data available - smoking rates among adults 18 to 64 on MassHealth had for the first time descended below 30 percent.

Knowing it was possible, albeit unlikely, that other forces might be influencing the rapid decline, state tobacco control specialists compared smoking rates of MassHealth patients with another cadre of adults prone to tobacco use - those who have no insurance and no coverage for cessation.

Even as smoking rates plunged among adults on MassHealth, to 29.6 percent, they remained largely unchanged - at more than 36 percent - among patients without insurance.

Four independent tobacco control specialists asked by the Globe to review the state's report said they found it persuasive, although they cautioned that declines in certain smoking-related health conditions need more evaluation and should not be regarded as definitive.

State researchers culled the medical records of about 13,000 MassHealth patients who received tobacco cessation drugs as part of the campaign, hunting for trends related to asthma and heart disease, two conditions inextricably linked to smoking.

The researchers found that in the year before patients started taking tobacco-control medication, 22.7 out of every 1,000 visited an emergency department because of asthma. A year later, that figure dropped to 18.7 per 1,000, a reduction that reached statistical significance.

Serious heart attacks declined, too, from 3.2 per 1,000 MassHealth patients to 2 per 1,000, a trend that, while encouraging, needs further confirmation. Although the study being released today does not assess whether the stop-smoking campaign reduced health care costs overall, the findings led some advocates to call on the state to make all health plans - public and private - provide cessation programs with low co-pays and deductibles.

"I think the numbers will show that would be worth doing,'' said Valerie Bassett, executive director of the Massachusetts Public Health Association, which represents public health specialists. "Especially when we're looking at cost savings, it's one of the easiest ones to realize.''

Reference: With aid, Mass. poor cut smoking State coverage for cessation programs hailed by Stephen Smith (stsmith@globe.com), The Boston Globe, 11/18/2009; Patrick Administration Announces Positive Results from MassHealth Smoking Cessation Benefit Unprecedented drop seen in heart attacks, asthma, and birth complications, Massachusetts Health and Human Services, 11/18/2009.