February 25, 2010 - The Philippines two biggest cigarette companies, Philip Morris Philippines Manufacturing Inc. and Fortune Tobacco Corp., announced their merger on Thursday, February 25th.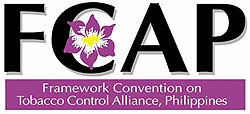 An anti-tobacco advocacy group expressed fears of intensified marketing efforts to lure more Filipino smokers [lure Filipino children to start using tobacco] as a result of this merger. "With the merger of the two companies, we expect intensified marketing of their cigarette products that will now cut across the rich and poor markets," Framework Convention on Tobacco Control Alliance Philippines (FCAP) said in a statement.

The multinational firm's premium brand, Marlboro, is the best selling brand in its category, while the Lucio-Tan led firm's "Fortune" brand is the market leader in the low-end segment.

"The consolidation of their strengths will most likely result [in an] increase in their hold on the market that will lead to more Filipinos suffering and dying from tobacco-related diseases," according to Maricar Limpin, FCAP Executive Director.
FCAP has been working to curb smoking, a habit that remains to be the country's major killer.

Lim added that the merger between the multinational firm and the local firm will likely result in stronger public relations efforts that undermine the country's laws on banning cigarette advertisements.

"Philip Morris and Fortune will bring into the merger their strength in public relations through the so-called corporate social responsibility [programs] that are meant only to promote their cigarette brands and companies," Limpin said.

"I hope our government officials, particularly in the Department of Trade and Industry (DTI) and the Department of Health (DOH) will see through this smokescreen," she stressed.

Reference: Anti-tobacco group expects intensified marketing with Philip Morris deal, abs-cbnNEWS.com, 2/25/2010.

Philippines - some related news briefs:
Philippines - PMI and Fortune Tobacco Corp. form new company called PMFTC..;
Philippines - Tanauan City names street Philip Morris..;
Philippines - DOH campaign for 100% smoke-free workplaces..;
Philippines - total tobacco industry could be down 10% to 15% this year..;
Philippines - 2003 ban on advertising and skirting the ban..;
Philippines - June is annually observed as 'No Smoking' Month..;
Philippines may be losing the war against smoking..;
http://snus-news.blogspot.com/2008/11/philippines-thai-cigarette-import-rules.html;
Philip Morris won't postpone Philippines Eraserheads Concert..;
Philip Morris could be criminally liable for its sponsorship of the event .in the Philippines..;
STOP PMI Sponsoring Concert in Philippines..;
Philippines - Smoker to be deported...