Click to enlarge..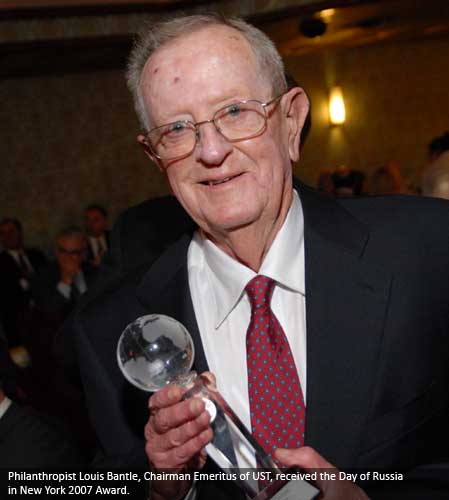 October 19, 2010 - Louis F. Bantle, who helped build the United States Tobacco Company into one of the most powerful brands in the tobacco industry, gaining an 80 percent share of the market for chewing tobacco, died Oct. 10 in Greenwich, Conn. He was 81.

He began his career at U.S. Tobacco in 1962 as an advertising manager, following in the footsteps of his father, Louis A. Bantle, who joined the company as a salesman in 1929 and retired as chairman and chief executive in 1972.

During his tenure, the company's sales expanded tenfold, pushing it into the ranks of the Fortune 500. But it also came under fierce legal attack from antitobacco groups that accused it of concealing the dangers of smokeless tobacco and inappropriately marketing its flavored tobacco products to young people.

History - UST, Inc.

Altria Group Inc on Tuesday, January 6, 2009 completed its $10.4 billion acquisition of UST, Inc. greatly expanding Altria's presence in the faster-growing smokeless tobacco segment. (Altria completes UST acquisition..)

June 19, 2008 - Comparison U.S. Smokeless Tobacco Players: No. 1 UST and No. 2 Conwood...

Reference: Louis F. Bantle, Chief of U.S. Tobacco, Dies at 81 by DIANA B. HENRIQUES, The New York Times, 10/17/2010.