August 23, 2009 -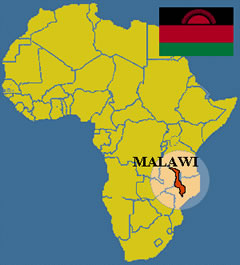 Malawi — Young tobacco pickers in this southern African country are exposed to "extremely high levels of nicotine poisoning," a London-based children's rights organization said in a report released Monday.

"As the tobacco industry continues to shift its production to developing countries, more vulnerable children are being exposed to these hazardous working conditions," said a report by Plan International. "It is estimated that over 78,000 children work on tobacco estates across Malawi, some up to 12 hours a day, many for less than 1.7 cents an hour and without protective clothing."

The report, entitled "Hard work, little pay and long hours," asserts that child laborers, some as young as five, suffer severe symptoms from absorbing "up to 54 milligrams a day of dissolved nicotine through their skin", the equivalent of an average of 50 cigarettes a day. Contracting green tobacco sickness (GTS).

MacDonald Mumba, a Plan International official in Malawi, acknowledged there had been no medical tests on the children but he said "physical signs on the children resemble tobacco sickness. It was unrealistic for Plan International to support a ban on children working in the tobacco industry because poverty forces children to work. We are appealing to employers to buy protective wear for these children to reduce exposure to nicotine, which is harmful."

Playing with Children's Lives: Big Tobacco in Malawi by Pilirani Semu-Banda, Special to CorpWatch, 2/25/2008.

Labor Minister Yunus Mussa told The Associated Press the government was reviewing the Employment Act. "Current laws guiding the employment of children do not prescribe stiff penalties to those caught abusing children but we are consulting to make them stronger," he said.

The children sampled in the report exhibited common symptoms of nicotine poisoning, including severe headaches, abdominal pain, muscle weakness, coughing and breathlessness, the report said.

"Sometimes it feels like you don't have enough breath, you don't have enough oxygen," an unnamed child in the tobacco heartland of Kasungu, central Malawi, was quoted as saying in the report. "You reach a point where you cannot breathe because of the pain in your chest. Then the blood comes when you vomit. At the end, most of this dies and then you remain with a headache."

Neal Benowitz, Professor of Medicine, Psychiatry and Biopharmaceutical Sciences at University of California, San Francisco said, "Numerous animal studies have shown that administration of nicotine during infancy and adolescence produces long-lasting changes in brain structure and function, as well as behavioral changes that are not seen when nicotine is administered to adults."

Tobacco is an important cash crop in Malawi, generating 75 percent of foreign exchange income. Over 80 percent of Malawians are directly or indirectly employed by the tobacco industry, which contributes up to 23 percent of all tax income and up to 30 percent of the country's Gross Domestic Product.

Companies such as Philip Morris International said they do not own farms in Malawi, but they purchase tobacco from suppliers in the country. "We require our tobacco leaf suppliers to sign a letter in accordance with which suppliers shall not employ any person who is younger than the age of 15 or the applicable minimum employment age or mandatory schooling age, whichever is higher," Anne Edwards, spokeswoman for the company said. "Philip Morris International strongly opposes any form of child labor in tobacco and other industries and works extensively with its leaf suppliers as well as the Eliminate Child Labor in Tobacco (ECLT) Foundation to reduce child labor in the tobacco sector," Edwards said in a statement e-mailed to the AP.

British American Tobacco said it buys about 5 percent of Malawi's annual tobacco crop but does not employ children.

Reference: Malawi child tobacco workers exposed to nicotine, RAPHAEL TENTHANI, Asociated Press, 8/23/2009.

Malawi - related news briefs:
Malawi tobacco estate workers have not benefitted..;
Malawi - how can this country survive without tobacco??;
BAT using illegal tactics to get African youths to start smoking..;
British American Tobacco (BAT) - 100 years in Africa...
(farming, child, children, kid)

Click on image to enlarge, Cartoon by Khalil Bendib..