April 9, 2010 - SAN ANTONIO, Texas -- Valero Retail Holdings Inc. and Valero Marketing & Supply Co. have signed agreements with 39 state attorneys general calling for Valero, which owns 1,000 convenience store outlets and has nearly 4,000 franchise outlets, to abide by a number of measures designed to keep underage consumers from buying tobacco.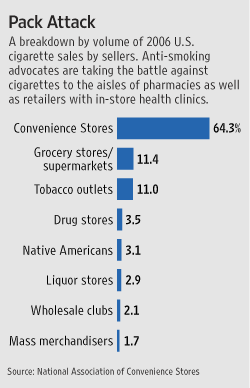 Cigarette purchases mainly at c-stores:


California attorney general Edmund G. Brown Jr. announced the multi-state agreement with Valero to stop young people from purchasing tobacco products at its c-stores. Attorneys general throughout the country reached this agreement after a nationwide investigation, led by Brown's office, of tobacco-selling practices at c-stores owned by or affiliated with Valero.

The Valero Energy Corp. units operate retail outlets under brands including Valero, Beacon, Diamond Shamrock, Ultramar, Corner Store and Stop N Go.

"For years gas station convenience stores have served as an illegal provider for underage smokers. Today, Valero has finally joined the growing list of companies that have made a commitment to prevent illegal access to tobacco," Brown said. "Smoking remains a serious public-health problem in our country, and we need to do everything possible to keep young people from picking up the habit."

The assurance includes specific procedures and policies designed to address how tobacco is displayed and sold, in order to prevent sales to minors.

Valero will instruct clerks to check identification for all tobacco customers who appear to be under age 27, to use security videotapes to monitor compliance by clerks, to eliminate self-service tobacco displays and vending machines, to perform random compliance checks involving youthful tobacco purchasers and to implement many other safeguards.

Under the terms of the assurance, Valero also agreed to change the terms of its franchise contracts so that tobacco sales to minors must be reported to Valero, and illegal sales could result in loss of the franchise.

The states participating in the agreement include Alabama, Alaska, Arizona, Arkansas, California, Colorado, Connecticut, Delaware, Florida, Georgia, Hawaii, Idaho, Illinois, Iowa, Kansas, Kentucky, Louisiana, Maine, Maryland, Massachusetts, Missouri, Montana, Nebraska, Nevada, New Hampshire, New Jersey, New Mexico, Ohio, Oklahoma, Oregon, Pennsylvania, Tennessee, Texas, Utah, Vermont, Virginia, Washington and Wyoming, as well as the District of Columbia.

Recently, other multi-state agreements have been inked to curb the sale of tobacco to minors at gas station convenience stores, including Conoco, Phillips 66, 76, Exxon, Mobil, BP, ARCO, Chevron and Shell, as well as retail and pharmacy outlets operated by Kroger, 7-Eleven, Walgreens, Rite Aid, CVS and Wal-Mart. Participating grocery stores include Ralphs, Safeway and Vons.

Shell Signs Deal With 47 State AGs to Curb Minor Tobacco Sales..

Click here to view a copy of the agreement with Valero..

Reference: Valero Inks Deals With 39 AGs Retailer agrees to take to steps to prevent tobacco sales to minors, CSP Daiol News, 4/9/2010.