Mayor Michael Nutter..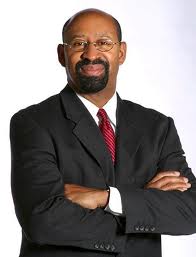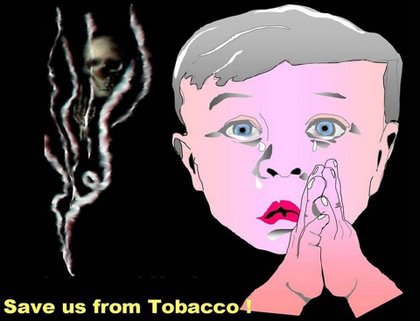 December 26, 2010 - Mayor Nutter talked about one of his Christmas wishes yesterday, December 23rd - reducing smoking rates in Philadelphia. Just in time for the holiday weekend, Nutter signed into law legislation that hikes the fines for merchants who sell tobacco products to minors. "We cannot allow our children to become the next generation of addicts," Nutter said. "Smoking is not cool at all."

Philadelphia is an easy place for kids to buy cigarettes illegally. When undercover shoppers for the city's health department — local high school students posing as customers — try to buy cigarettes in one of the city's 4,300 tobacco retailers, they succeed at least 25% of the time.

Confronted by one of the highest underage smoking rates among large cities, Philadelphia has launched an unusual program that sends health department workers into corner stores and Chinese restaurants for one-on-one sessions with retailers who have been caught selling tobacco to teens.

December 23, 2010 - Stores caught selling cigarettes to minors will now face heftier fines in Philadelphia. The legislation signed Thursday, December 23rd is designed to cut the city's high teen smoking rate. The bill raises the fine from $100 to $250 and if a merchant defaults on the fine it can be increased to as much as $2,000. Mayor Michael Nutter says it's designed to help keep young people from taking up what could be a deadly habit. "We cannot allow our children to be the next generation of addicts facing a very certain future of illness and death. Smoking is not cool at all," said Nutter.

In addition to the fines, the legislation authorizes the city to shut down a business for 48 hours if it sells tobacco to minors three times in two years. And the city will post on its website the names of businesses cited for illegal tobacco sales.

Nutter also spoke about a new publicity campaign, called the "Last Pack," which will provide counseling and other support to those trying to quit cigarettes. Promotional ads will be featured on 17 local radio stations. The effort is funded through a $10.4 million federal stimulus grant from the Centers for Disease Control and Prevention.

As part of the anti-smoking effort, last month the city launched a nicotine-patch giveaway that attracted 3,300 participants. And starting in January, the city will provide insurance coverage for smoking-cessation medications to roughly 7,000 employees. Nutter asked that anyone who witnesses an illegal tobacco sale to a minor report it by calling 1-888-99-SMOKE or going to smokefreephilly.org.

In Philadelphia, 7.4% of teenagers under 18 smoke daily, according to an annual study by the Centers for Disease Control and Prevention. That's less than the national underage smoking rate of 11.2%, but far higher than cities such as Boston, where 5.7% of teenagers smoke regularly, Los Angeles, where 3.6% do, or New York, where 4.9% of kids smoke, according to the CDC's 2009 Youth Risk Behavior Surveillance released in June.

"The products are available at just about every corner," says Giridhar Mallya, director of policy and planning for the Philadelphia Department of Public Health. And because Philadelphia has no local tax on cigarettes, unlike many cities, "they're pretty darn cheap," at about $6 a pack.

The city's effort comes at a time when the national decline in youth smoking has stalled, and the rate of retailers selling to minors has crept up. After dropping from a peak of 35% in 1995 to 20% in 2007, the decline in the rate of youth who have smoked in the previous month has plateaued, according to the CDC. In the most recent federal reports on underage cigarette sales, the national rate of retailers selling to minors increased to 10.9% from 9.9%, the first increase since the study began in 1997 and the highest rate since 2005.

Of the 405 retailers visited in the program's first five months, 45% have again sold cigarettes to teens, according to Lauren Gemberling of the Health Promotion Council of Southeastern Philadelphia, which undertakes the work for the health department.

Anti-smoking efforts don't stop with minors. According to the city, smoking afflicts all ages in Philadelphia, killing 2,500 people in the city each year and costing more than $800 million in lost productivity.

Under a law that went into effect in June, the Food and Drug Administration (FDA) will enforce the ban on underage cigarette sales through state grants; Pennsylvania won a grant in July. The program's impact on Philadelphia is "to be determined, but that could be an important piece" of reducing kids' ability to buy cigarettes, Mallya says. (FDA CTP Retailer Compliance Training Sessions..)

References: Philadelphia targets underage smoking, Martha T. Moore, USA TODAY, 12/2/2010; Philadelphia raises fines for selling tobacco to kids by Tom MacDonald, newsworks.org, 12/23/2010; A pack of initiatives to cut city smoking rates by CATHERINE LUCEY (luceyc@phillynews.com), Philadelphia Daily News, 12/24/2010.