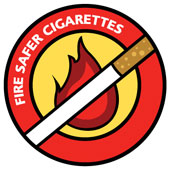 January 1, 2010 - A new safety standard for cigarettes has been agreed in the European Commission and is expected to come into force across Europe in November 2011. London Fire Brigade campaigned for this change, which should reduce the number of fires started by smoking materials.


Background: Since 2007 London Fire and Emergency Planning Authority (LFEPA) has worked as part of a coalition of organisations including UK fire services and health and tobacco control groups, calling for the introduction of a fire safer standard for cigarettes in Europe. Chairman of LFEPA's Community Safety Committee, Councillor Susan Hall, said: "We have campaigned long and hard for this legislation to be introduced and now it has, it will undoubtedly save lives.

The EU Commission said on Tuesday, August 5, 2008 that all cigarettes sold throughout the European Union will be self-extinguishing "fire-safe" brands (reduced ignition propensity (RIP) cigarettes) by 2011. (EU plans 'fire-safe' cigarettes..)

The standard setting process is now complete and the new standard was agreed on 18 November 2010.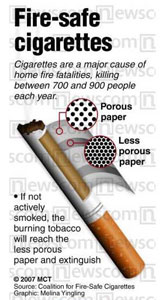 Fire safer cigarettes, also called 'reduced ignition propensity or 'RIP' cigarettes, are cigarettes with ultra-thin bands at intervals down the length of the cigarette. These bands cause the cigarette to go out if not puffed by the smoker.

A fire safer standard is already in force on cigarettes sold in Canada, Australia, Finland, New York and other US states. Department for Communities and Local Government (DCLG) undertook some research into the comparisons of the propensity of fire safer cigarettes and conventional cigarettes to ignite textile materials used in a domestic environment. The research estimated that had cigarettes in the UK conformed to the New York standard in 2003, the number of smoking related fires would have been reduced in that year by nearly two thirds.

There are about 800 fires a year in London that are started by smoking materials. 78 people died in London in fires started by smoking materials between April 2005 and November 2010.

Although this is a voluntary standard, manufacturers have a strong incentive to comply, as the standard will provide a 'presumption of safety' for cigarettes manufactured within it. If a cigarette does not comply with the standard, member state authorities (in the UK, this would be Trading Standards) would be able to take action - such as withdrawing it from the market.

It is estimated that if all cigarettes sold in the EU meet this requirement one to two lives could be saved every day.

References: Fire safer cigarettes, London Fire Brigade, 1/1/2011; London Fire Brigade backs new cigarette rules, CroydonGuardian.co.uk, 1/1/2011.
(United Kingdom, European Union, fire safe cigarettes, FSC, Reduced Ignition Propensity (RIP))