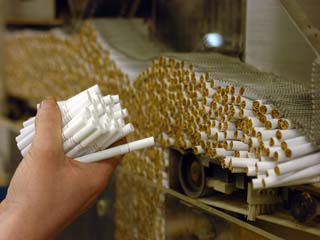 November 4, 2010 - Two Ontario tobacco producers are taking Ottawa to court over so-called smoke shacks, accusing both the federal and provincial governments of turning a blind eye to the sale of contraband cigarettes.


Background: Ontario and Quebec represent about 95 per cent of illegal tobacco sales in Canada, and about 33 per cent of cigarettes sold in Canada are contraband, according to the manufacturers' council study. Rob Cunningham, a senior policy analyst at the Canadian Cancer Society, "Ontario and Quebec have the lowest tobacco taxes in Canada, but the highest rates of contraband. (Federal tobacco taxes have not increased since 2002 and the main reason is contraband concern.) So contraband is not caused by taxes, it is caused by the proximity to the sources of supply." The major source of that supply is the Akwesasne native reserve that straddles Ontario, Quebec and the State of New York. Ten cigarette manufacturing plants on the U.S. side pump out billions of cigarettes annually.(Canada, Ontario and Quebec - illegal cigarettes greater than 40% of consumption..)
In the proposed class-action lawsuit, Stanley and Linda Koscik and Weninger Farms Ltd. -- both in Aylmer, Ont. -- claim Ottawa "knowingly and deliberately" failed to collect taxes from illegal smoke shacks. "The Crown agents have ignored flagrant violations of the prohibition on the sale of contraband tobacco products and have permitted open trade in contraband tobacco and tobacco products on First Nation reserves through illegal outlets established off the reserve," the statement of claim for the $500-million suit reads.

The allegations have not been proven in court.

There are almost 350 illegal smoke shacks in Ontario and Quebec, which are forcing many retailers -- most of them families -- to close their doors, according to the Canadian Convenience Stores Association. Cartons of black-market cigarettes usually sell for $11 or $12, compared to nearly $50 for a carton of legal smokes, said Michel Gadbois, senior vice-president of the association. "It's a total injustice," he said. "You have two laws that do not apply to the same citizens. If you can't enforce the law, then act." About 35 to 40 per cent of all cigarettes sold in Ontario and Quebec are contraband, Gadbois said.

"That's a $2-billion market going directly to criminal organizations. That's the bottom line," he said. "That's where the money goes. And you can imagine what they do with that money."

The RCMP warned in a progress report last May that illegal tobacco "continues to attract organized crime, undermining Canadians' expectations of safe communities and economic integrity." Last year, the national police force seized about 975,000 cartons of illegal cigarettes across Canada, higher than 2008's record haul of 965,000 cartons and more than double what the RCMP seized in 1994.

"The illicit trade in tobacco products continues to be a serious threat to public safety and the health of Canadians," the report stated.

Despite the dangers associated with black market tobacco, the Ontario government has done little to stop the proliferation of smoke shacks, said NDP justice critic Peter Kormos. "The trafficking in illegal cigarettes in Ontario is widespread, it's notorious, it's well known," he said. "The police have refused to enforce the law as it stands."

Ontario Liberal government -- which is suing tobacco companies over health-care costs associated with smoking -- won't even crack down on two shacks that are operating on government property in Caledonia, said Conservative Toby Barrett. The community near Hamilton is home to a former housing development occupied by First Nations protesters who say the land belongs to them. "I've watched it myself many times... officers astoundingly turning a blind eye to illegal activity," Barrett said. "It's literally right in front of their nose."

There's a theory that police are simply following government orders and condoning the illegal activity to avoid a confrontation with First Nations, he added. But Ontario Attorney General Chris Bentley insists the province is tough on contraband cigarettes and is working with its counterparts in Ottawa and the United States to fix the problem. "What you have seen over the past year is a greatly increased action in terms of enforcement of the various rules that exist," he said. "So we'll be speaking more completely to the next steps in our approach in the months to come."

Federal Justice Minister Rob Nicholson declined to comment on the lawsuit.

Kormos argues there's a "stunning" lack of enforcement that is jeopardizing the health of minors who are getting hooked on contraband cigarettes. "It's not hard to identify vehicles leaving so-called smoke shacks and identifying which ones are most likely to have trunkfuls of illegal tobacco and illegal cigarettes and simply busting them," he said.

The proposed class-action lawsuit, filed Oct. 29 in Federal Court on behalf of all tobacco producers, is similar to another suit filed last year in Ontario Superior Court by the same group. That suit named both the federal and Ontario governments.

John Finley, a lawyer representing the plaintiffs, said his clients plan to continue action against the provincial government. But it's not yet clear whether that will require pursing the suit that has been filed in Ontario court.

Neither lawsuit has been certified as a class action.

Reference: Tobacco farmers suing feds over illegal cigarettes, The Canadian Press, CTV.ca, 11/1/2010.

Canada - cigarette smuggling (illicit, illegal) related briefs:
Canada - c-store association applauds move by govt to focus on nation's tobacco contraband problem..;
Canada - Health Canada shelves update of graphic warning messages to concentrate on the problem of contraband tobacco..;
Canada - action must be taken to control the illicit cigarette problem..;
The New Big Tobacco: Inside Canada's underground tobacco industry, a five-part series..;
Canada - federal govt announced new initiatives to combat cigarette smuggling..;
Canada - even federal servants smoke illegal cigarettes..;
Canada - tobacco firms settle cigarette smuggling case..;
Ontario - NO new measures to curb youth smoking..;
Ontario - don't cut provincial tobacco taxes to try to reduce contraband tobacco traffic..;
Canada - nearly one in five packs of cigarettes smoked by Canadian teen smokers are contraband products..;
Canadian Tobacco Use Monitoring Survey - 2008..;
Ontario, Canada - illegal cigarettes are everywhere..;
Canada - half of smokers have tried to quit..;
Canada - illegal cigarette trade - Imperial Tobacco President Kemball comments..;
Canada - Imperial Tobacco Head - Illegal Cigarettes..;
Imperial Tobacco - Canada Head - Canada growing crisis of illicit tobacco sales..; Imperial Canada - stop illegal tobacco sales rather than raisng tax on tobacco..; Canada - will higher tobacco prices lead to increase in illicit cigarettes..;
Canada - to launch an advertising campaign on the problem of tobacco smuggling..;
Nova Scotia - buying smuggled tobacco you encourage organized crime..; Ontario Businessmen - want government to crack down on illegal cigarettes..;
Imperial Tobacco Canada - slow illegal cigarettes/sue tobacco companies..;
As tobacco prices rise - increase in illegal cigarette trafficing..; Canada - Obama visit - help STOP cigarette smuggling from U.S..;
Canada economic recession losing billions in unpaid tobacco taxes..;
Canada - Police arrest 46 in tobacco crackdown..;
Imperial Tobacco Survey - Canadian Illegal Tobacco Trade..;
Canada - Introduction of Tobacco Stamp to combat contraband...